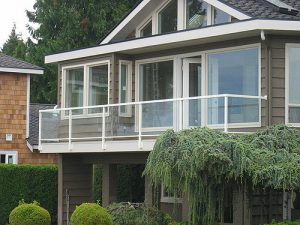 ---
When it comes to deck waterproofing and aluminum railing we can't be beat! Quality, experience and price…we've got you covered.
I'm Ken Kreutzer Jr., owner of AK Kreutzer Construction, and I've been installing Weatherdek deck waterproofing in the greater Seattle area since I was a teenager. More than 20 years later, my waterproofing skills and expertise are finely tuned and impossible to beat. I added high quality STAR aluminum railing to my service offerings over 10 years ago and I've installed tens of thousands of feet of railing in that time.
The reputation of AK Kreutzer Construction speaks for itself. We don't have fancy ads in the phone book, shiny pages in magazines or a flashy sign over our office door. We don't need to – the compliments of our customers' referrals are all the advertising we need and it has made AK Kreutzer Construction the most sought after deck waterproofing company in the Pacific Northwest. We service all areas of the Puget Sound including Seattle, Tacoma, Bellevue, Kirkland, Puyallup and the Olympic peninsula.
In addition, because I have lived my entire life in the Pacific Northwest, I know the area, understand the weather's effects and I'm aware of how important it is to protect your largest investment – your home. Not only do I use the best products available, but I can also assist you in determining which grade of Weatherdek or which type of STAR railing you need based on your exposure to the elements. No tricky sales tactics, just real conversation about your deck and its location.
Remember, when it comes to your home, AK Kreutzer Construction will provide clean, courteous, efficient, professional services every time. We proudly stand behind our products and our company. You can count on it.